You spend a lot of time in the kitchen, whether cleaning dishes, making food, or putting your take-out on the countertops. With so much time spent there, you'd want it to be a pleasant location.
At Frei Remodeling and Construction, LLC., we've noticed a few ways to make a white kitchen and white kitchen cabinets more visually pleasing. We can work your white cabinets with these design tips to make your kitchen as comfortable as you want it.
Why A White Kitchen Can Work
You've probably considered painting your white cabinets a different color. After all, many homeowners worry about long-lasting kitchen stains. Any damage to your cabinet doors sticks out more if they're white. Of course, white paint is also subject to more visible sun damage if often exposed to direct sunlight.
However, the pros tend to outweigh the cons. White kitchen cabinets are not only classic but invoke positive feelings and brightness. Avoiding sun damage becomes easy if you choose off-whites or white paint formulated to stave off the UV damage. Maintenance keeps them beautiful and clean, regardless of the color.
If you decide to go with white cabinets, you open up a much larger variety of style and decor choices than you would have otherwise. Below, we've listed seven ways your white cabinets can add pizzazz to your kitchen.
Seven White Cabinetry Alterations to Consider
1. Choose Your Kitchen Door Handles Wisely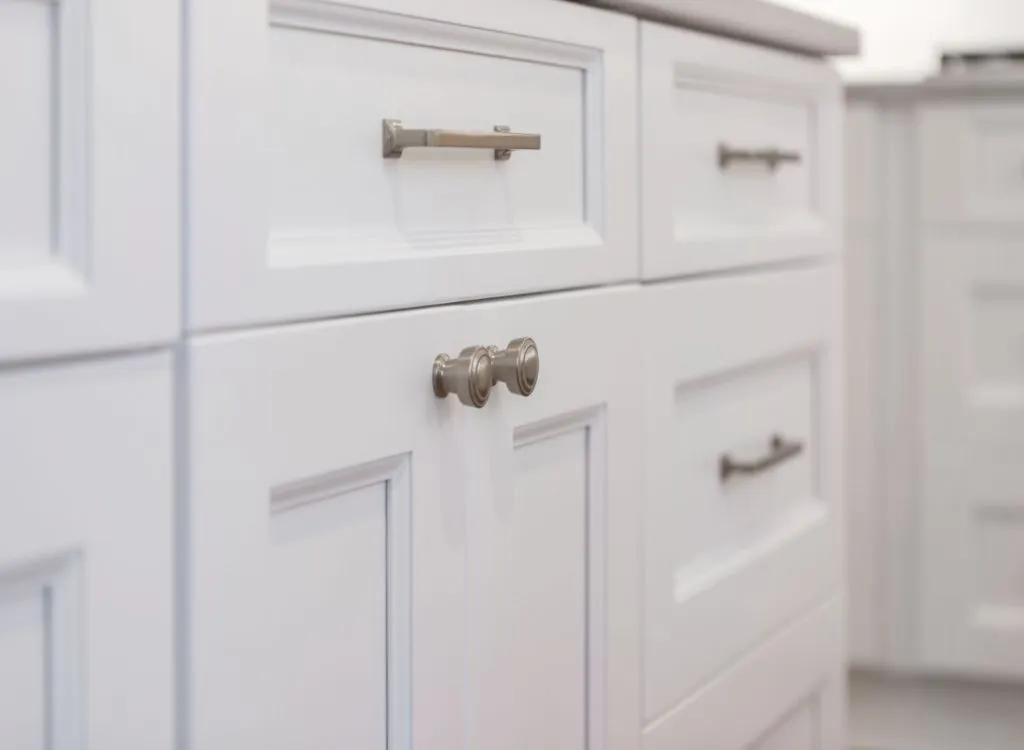 Your kitchen's tone changes even with simple modifications to your door handles. The handles help your cabinets stick out with a personality of their own. Bronzes are a staple, though silvers are great if you'd prefer subtlety. You should choose darker browns or blacks if you want the handles to be particularly eye-catching.
You should also ensure the colors chosen mesh well with the nearby decor in other rooms. For example, you use a lot of tan wood and golden bronze fixtures in the living room. In that case, choose light bronze handles to match the color or match the handles with the metal fixtures in the room.
2. Consider the Cabinet Door Texture
White cabinets don't have to be sleek and polished. You can choose designs that emphasize the subtle groves and etches in the doors to make them unique. For example, slab cabinet doors come in many textures. Their most common look tends to be featureless since they also lack door handles. However, you can be more creative with how they appear.
Some have etched-in wood textures. Vinyl wood mimics cover some cabinets, making them look like several small wooden boards combined into one door. A popular choice combines a thermally-fused wood laminate with any preferred color. White textured doors give personality to your kitchen while not overpowering the backsplash or other colors around them.
3. Adjust Your Cabinet Shapes
Even without too much texture, white cabinet doors can have beveled shapes like any door in the house. Bevels add angles and slopes to the doors that could match with other rooms and furniture.
Consider raised panel cabinet doors. The middle of the door pushes outwards from the material around it, usually surrounded by a raised frame. Think of it like three rectangles layered onto each other, with the second rectangle pushed inward.
You can also change how the second rectangle connects to the outer frame and inner panel. For example, some designs add additional bevels and heights that ease the angles between the frame and panel. Stylize these details to match the other doors in the house for the best effect.
4. Simple Cabinet Doors Make Room for Decor
If you want your centerpiece to be a table, a set of chairs, or some other prominent accent, white cabinet doors are a great go-to. A simple shape for the door helps build the room's aesthetics without overtaking the intended details.
White shaker cabinet doors work wonderfully for this effect. They are also panel cabinet doors. However, the second rectangle is the design instead of a raised panel in the middle. The middle is usually flat. Shaker doors can have textures or slopes in the middle, though they work very well at their simplest.
5. Backsplashes Can Pop with White Cabinets
White doesn't muddy the colors added to and around it. The versatility of white is why you can express yourself more vibrantly with the backdrops in a white kitchen.
The white cabinet doors provide relief for the eyes and facilitate a balance between vibrant backsplashes and decor. You can combine colors as you please and not worry too much that it won't fit with the doors. The backsplash colors become your focal point with additional accents around the kitchen. The white cabinet doors won't get in the way.
6. Mix and Match Your Cabinet Door Paint
Not sure if you're ready to go all-white? You don't have to. You can mix the colors of your cabinet doors, making one set white and the other a color existing in a nearby room. The white prevents the kitchen from becoming too dark, even if you pair them with dark brown cabinets.
You can keep the second color standard to match other furniture or experiment with it. For example, if you have a favorite kitchen appliance, the second color could match that appliance. The white painted cabinets help keep other colors from being overbearing, making either choice possible.
7. Accent Your Whites
Your cabinets don't have to be purely painted white if you don't want them to be. Instead, you can add splashes of color and paint to the doors. The accents allow them to become a part of the decor color-wise without being merely used as the canvas.
Some of the best choices are equally neutral colors, but you can add any you'd prefer. You can also alter the quality of the coloring, whether you'd like it sleek or distressed. If you go this route, choose a color you love that pairs with the things you enjoy.
Do You Need Help Installing White Kitchen Cabinets?
Frei Remodeling and Construction, LLC., has been making Southern Arizona kitchen construction dreams come true since 1962. We will work with your white kitchen cabinets and refurbish or redesign them to your specific needs. Fill out our contact form today to get your free quote as soon as possible.