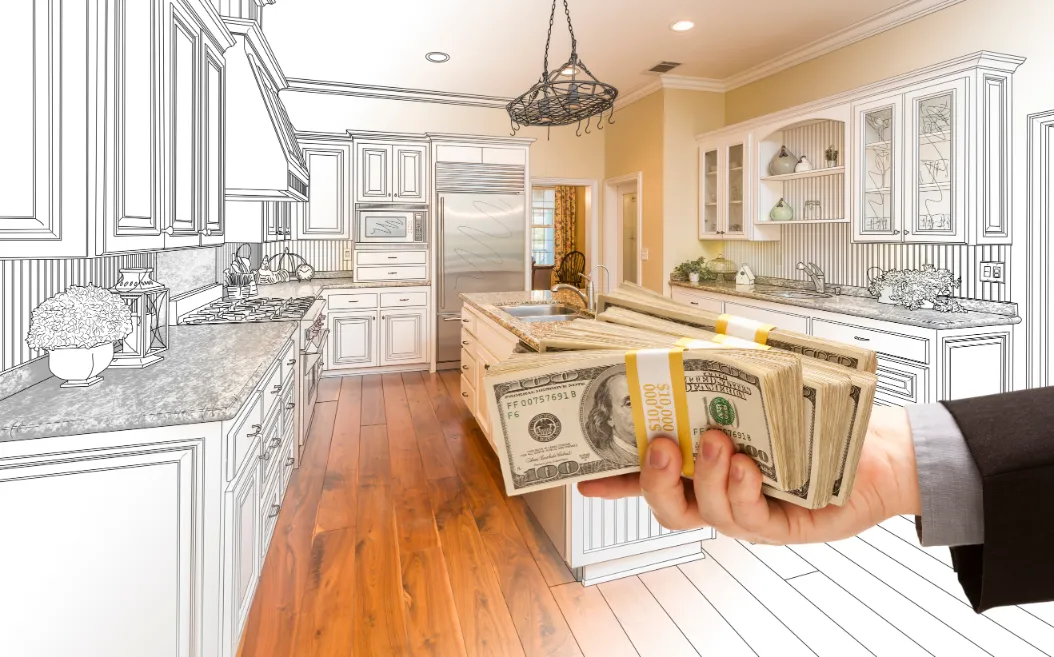 Are you thinking of remodeling your kitchen in Oro Valley, AZ? Do you want to know what it can cost before diving into a project of this size?
In this post, you can find out the average cost of a kitchen remodel in Oro Valley, Arizona, is. By the time you're done reading, you'll have a better idea of what you'll spend for a quality kitchen remodel as well as the main factors that can change the price.
Average Cost Of A Kitchen Remodel In Oro Valley
Per Manta, the average cost of a kitchen remodel in Oro Valley, AZ, is approximately $24,000. The average price for a kitchen remodel in Oro Valley typically ranges from $8,000 to almost $40,000.
That being said, it's worth noting that these kitchen remodel cost ranges are primarily based on work done by lower-end kitchen remodelers. High-end kitchen remodelers who specialize in luxury features and only use premium materials will start at $50,000 and go up from there. High-end kitchen remodelers also include professional design services and handle behind-the-scenes aspects of kitchen remodels, such as acquiring all the necessary building permits.
Large Kitchen Remodeling Cost
For large kitchens (above 200 square feet), you can expect to pay at least $30,000 and up for a kitchen remodel.
Average Kitchen Remodeling Cost
Kitchen remodel costs for average-size kitchens (between 100-150 square feet) start at $15,000 and go up from there.
Small Kitchen Remodeling Cost
For small kitchens (75 square feet or less), remodeling costs start at $11,000 and go up from there.
Factors That Affect Kitchen Remodeling Costs In Oro Valley
Every kitchen remodel project is unique, so the factors that can change the final cost are almost endless. However, some key factors will raise the cost of your kitchen remodel no matter what type of vision you have for your space.
Factors That Make Prices Higher
Large Kitchen Size
The most significant cost factor is usually the size of your kitchen because the cost per square foot can change with the size. As we mentioned earlier, smaller kitchens tend to be much more affordable than larger ones because there is less work involved in remodeling them.
Larger Scope Of Work
No matter what type of kitchen remodel project you're planning, the bigger the task, the bigger the average cost. The scope of the remodeling project is a major factor in determining how much it will cost you. Making significant changes to your existing kitchen layout, completely gutting your kitchen, and replacing all of your existing cabinets and appliances involves more labor, materials, and time, which increases the average cost of a kitchen remodel.
Higher Quality Materials
Suppose you choose higher quality materials, such as stone countertops instead of laminate and hardwood flooring instead of tile. In that case, you will inevitably raise the cost of your kitchen remodel. However, you will also receive the longevity and added value that comes with those materials.
High-Quality, Professional Labor
Hiring a higher-end contractor with a professional team will raise the project's overall cost. But there is a reason it's worth the price tag–opting for an experienced professional offers top-level service, impeccable craftsmanship, and a commitment to prompt completion that saves time and money in the long run. The labor for specialized work such as electrical or plumbing will also come with a higher price tag.
Using experienced professionals also lets you rest easy knowing their expertise guarantees durability and quality that won't need replacing or fixing soon after.
Ultimately, reliable contractors who understand kitchen functionalities offer peace of mind and the highest value when looking at the average kitchen remodel cost.
The Age of the Home
The average cost associated with a kitchen remodel increases when working with an older home because necessary upgrades such as appliances, electrical wiring, and pipes may need to be replaced. Older homes also typically need modern amenities added, such as dishwashers and garbage disposals. All of these items will raise the cost of a kitchen remodel.
Project Speed
If you're trying to complete the project faster, you may end up paying more because you'll likely have extra expenses like overtime labor costs and rush orders for materials. Most professional contractors will work with you for an expedited timeline. However, the quick turnaround will come with a higher cost.
The professionalism and experience of the contractor can also affect the timeline. Here at Frei Remodeling, we pride ourselves on our high-quality work and efficiency. We average a 6-7 week turnaround for a kitchen remodel that most other contractors will take 8-12 weeks to complete.
Cost Of Permits
Kitchen remodels typically need some type of permit, especially if there is electrical, plumbing, or gas line work being done. Depending on the scope of the project, permits could add significant expense to your kitchen remodel. To avoid any unexpected costs, research with your local municipality beforehand if any visas are needed.
New Appliances
New appliances come with more efficient technology and special features but also a higher price tag. If you opt to replace all of your major kitchen appliances at once, you can expect the cost of your kitchen remodel to increase significantly.
Discovered Damages
One potential hidden expense that is often forgotten about is discovered damages. Sometimes unknown factors come up once demolition has already begun. It could be something small like poor insulation that needs to be added or torn down walls revealing long-forgotten damage from a plumbing issue, resulting in additional costs.
Factors That Make Prices Lower
Small Kitchen Size
If you have a small kitchen, you could stand to save significantly on your kitchen remodel costs. The cost of options like cabinets, countertops, and flooring will be less due to the lower square footage. Labor for demolition, construction, and finishing work may also be less costly.
Smaller Scope
Smaller project scopes require less time and resources and therefore cost less. So taking a more moderate approach to your kitchen remodel can lower the final cost. Working within the confines of your current layout but simply updating materials like countertops, walls, and appliances can help lower the average cost of a kitchen remodel.
The Existing Kitchen Is In Good Condition
Having your existing kitchen in good condition means you won't have to invest in major structural or layout changes and can instead concentrate on aesthetic and practical updates. This can help dramatically lower the average cost of a kitchen remodel since the contractor won't need to make major repairs before starting the remodeling work.
The Style Of Kitchen You Choose
If you're determined to get your kitchen remodel on a budget, choosing the right style of kitchen can make all the difference. A traditional-style kitchen will typically cost less to remodel than a more modern-style kitchen. This is because traditional-style kitchens often use less expensive materials and have simpler designs. Opting for a more classic style kitchen, such as a French country kitchen or farmhouse style, means you won't have to pay top dollar for up-to-date features.
Using Lower-Quality Materials
If you are looking to lower the average cost of a kitchen remodel, consider utilizing lower-quality materials. While higher-end materials may offer better quality, they often come with an extra level of expense that may be too much for some budgets. On the other hand, you will need to fix or replace them sooner than you would with higher-quality materials.
Lower-Quality Or DIY Labor
If you do it yourself or hire a cheaper contractor, you'll end up paying less than you would if you used higher-quality professional labor. However, this can be a risky way to save money since many cheap contractors will cut corners that may end up costing you more in the long run. Using DIY labor can be a good option if you have some building experience and are organized enough to undertake an ambitious project like a kitchen remodel.
The Location of Your Home
Depending on where you live, the average costs of a kitchen remodel can vary drastically. The prices for materials and labor will typically be higher in urban areas than in rural areas (but not always).
19 Elements To Include In Your Kitchen Remodel Budget
Setting a budget before making any decisions can help ensure that you don't get in over your head. It's also helpful to know your priorities so you can change some aspects of your remodel to stay within your budget.
Below is a list of 19 kitchen elements you should include in your budget planning:
Kitchen cabinet costs (cabinetry is usually the most expensive item, especially if you select custom cabinets)
Countertops (countertops are usually the second most costly item)
Flooring
Appliances
Paint
Lighting
Plumbing
Electrical
Fixtures
Backsplash
Window treatments
Doors
Furniture
Decor
Designer fees
Storage solutions
Installation costs
Demolition
Permits
FAQ About Kitchen Remodeling In Oro Valley, AZ
Can I Remodel My Own Kitchen?
As noted above, DIY work is definitely a way to save money on your kitchen remodel. However, you should not underestimate the complexity involved in some aspects of kitchen remodeling work.
Here is a list of some tasks that you may be able to do on your own if you have some DIY experience:
Installing tile (such as for a tile backsplash)
Remoornd/or installing cabinetry
Replacing old cabinet hardware on cabinets and drawers
Staining wood
Painting floors and ceiling
Installing new flooring
Hanging new light fixtures
Replacing a kitchen faucet
On the other hand, many aspects of a kitchen remodel are best left to the professionals. Unless you are a plumber, electrician, or general contractor yourself, we recommend that you don't attempt the following tasks for a kitchen remodel:
Moving gas lines
Complex electrical work (anything beyond replacing a light fixture or changing an outlet cover)
Demolition work
Structural changes (like removing load-bearing walls)
Complex plumbing work (anything beyond replacing a faucet)
Installing appliances (especially gas ovens)
What Are The Benefits Of Getting Your Kitchen Remodeled In Oro Valley?
There are many benefits to having a kitchen remodel done:
Having your home reflect your personal style and needs
Increased energy efficiency
Additional storage space
Improved comfort and aesthetics
Improved functionality
ROI: Homeowners who do a kitchen remodel can expect to recoup anywhere from 52% to 71% of the remodeling cost, making it a sound investment of both money and time.
What Are Some Of The Popular Upgrades For Kitchen Remodels In Oro Valley, AZ?
Curious about what your neighbors are doing to their kitchens? Here are some of the most popular upgrades for kitchen remodels in the Oro Valley area:
Painted cabinets
Adding a kitchen island
Granite or quartz countertops
Custom cabinetry
Pullout shelves
Soft-close drawers and cabinets
Under-cabinet lighting or backlighting (lighting on top of cabinets)
Pendant lights
Modern appliances
Kitchen Renovation vs Kitchen Remodel
A kitchen renovation means making your kitchen look like new, such as by repainting walls, refinishing cabinets, etc. A kitchen remodel means creating a new kitchen. This can include removing walls to make it open concept and installing a new type of flooring, backsplash, cabinets, lights, etc.
Create The Kitchen Of Your Dreams With The Professionals At Frei Remodeling
Now that you know the average cost of a kitchen remodel in Oro Valley, AZ, as well as some of the important factors that can affect your specific budget, it's time to get started on planning your own project.
If you need help getting started or would like a consultation with one of our experts, be sure to fill out our contact form today. We can't wait to help you create the kitchen of your dreams!