Your Neighbors In Tucson, Arizona, And The Surrounding Areas, Are Using Bath Fitters Or Another Enclosure To Give Their Bathroom The Facelift It Needs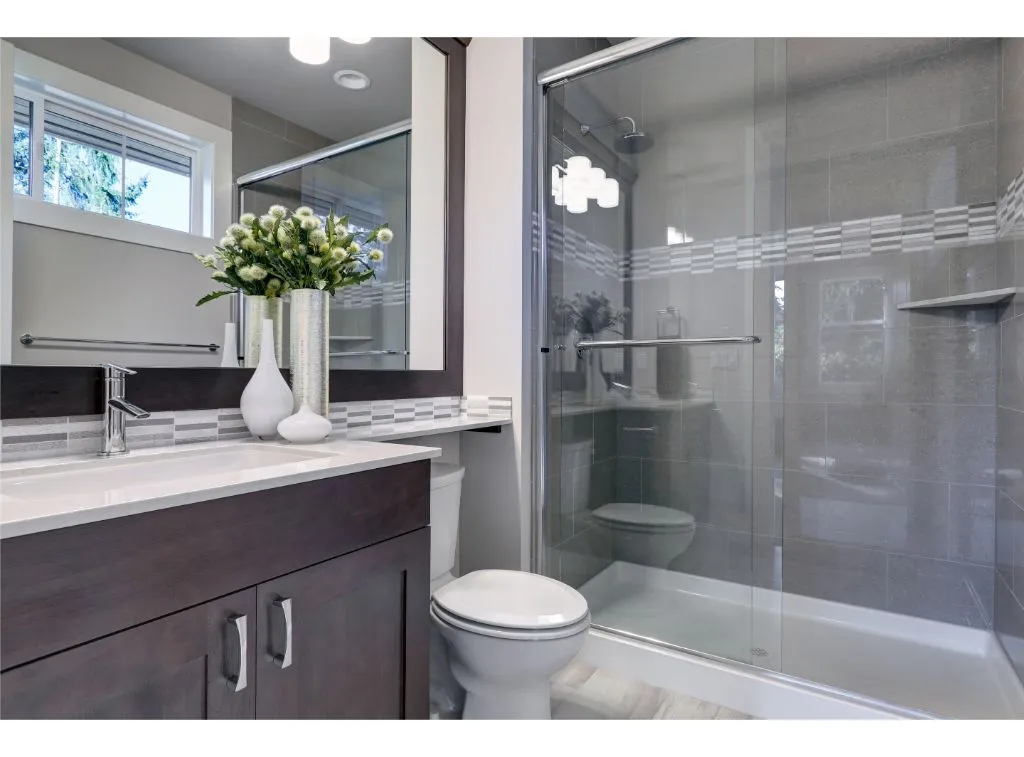 In this post, you can discover the best enclosures you can use to give your bathroom the makeover you need it to have. Ready to be one step closer to starting your bathroom remodeling project?
What Are Enclosures For Showers?
A shower enclosure is what separates the areas that can get wet from the ones that need to stay dry. There are a few different types, including square, rectangular, semi-oval/quadrant, and half-circle.
Some you have to do a deep install and change up the plumbing. For others, it's simply an aesthetic change where you put up a waterproof liner that looks just like a shower wall.
Bath Fitters vs Other Enclosures For Showers In Tucson Homes
1. A&E Jana Framed Pivoting Shower Door Enclosure and Base Kit
This enclosure is one of the best when it comes to having a modern look and feel.
The doors are a nice, heavier tempered glass (a quarter-inch thick). They open by smoothly pivoting, making them best for average-size bathrooms and more oversized. The outer enclosure is window-pane-style glass with a matte black aluminum frame.
2. SWAN Veritek Bisque 5-Piece Alcove Shower Kit
If you want the traditional look, this enclosure may be the one for you.
The tile pattern walls and the clear glass by-pass doors make the look of this shower as classic as you can get. You'll also get a built-in soap dish, and the bars on the doors double as towel bars.
You can get the same thing with Bath Fitters, but you'll have more options.
3. DreamLine Visions White 2-Piece Alcove Shower Kit
It'll be difficult for you to find another enclosure that beats this one when it comes to glass doors.
The dual sliding glass panel doors are both innovative and elegant. It's like walking through double doors into your very own spa. You'll love having this enclosure in smaller bathrooms. Even though it fits in smaller spaces, you can still install a bench in it!
4. Sterling Ensemble Curve Shower Wall and Base Kit
If shelves are important to you, you'll want this enclosure.
You'll find shelves in two of the corners. There's one at the top, one slightly below that, and then one nearer the bottom. You can also use the bottom one as a footrest when shaving. Along with this, you'll get a curved, alcove-esque wall with a shiny, high-gloss finish.
With Bath Fitters, you can choose to have single, double, or tower shelves. The tower shelves have even more shelving than the Sterling Ensemble Curve Shower Wall.
5. Jade Bath Rectangle Sliding Shower Enclosure
For farmhouse-style homes, you won't be able to beat this enclosure.
The matte black hardware is the signature piece that helps make this enclosure have the farmhouse look. It's rectangular, has glass doors and walls, and you can choose which way the door slides open.
What Makes Bath Fitters Incredible?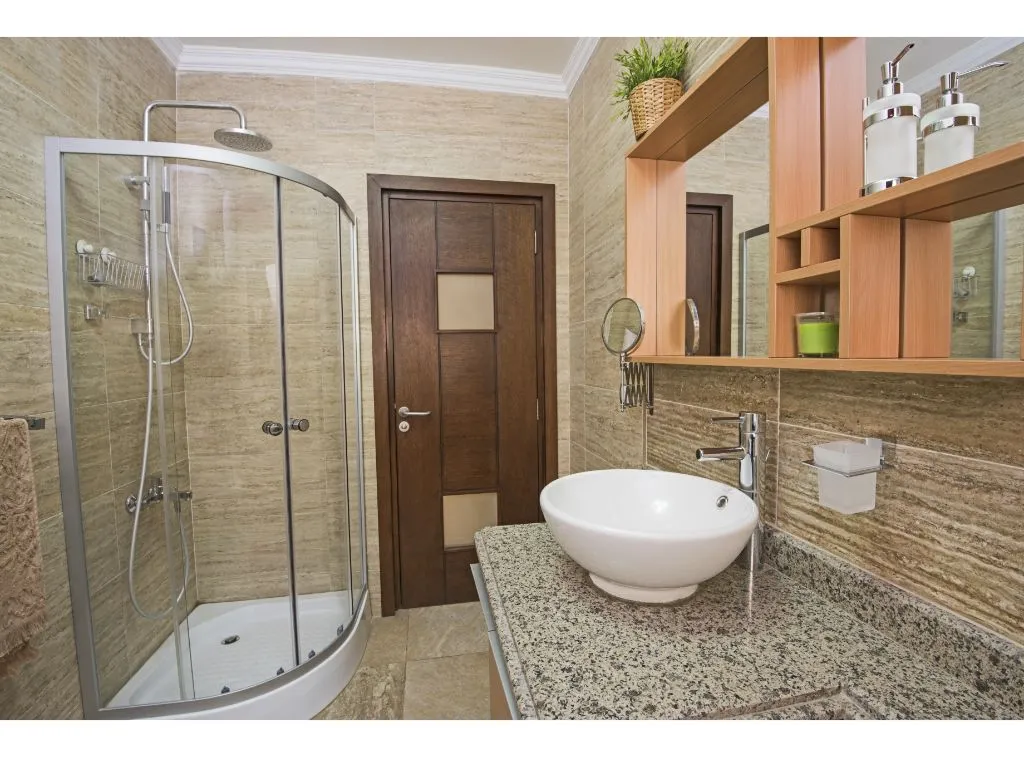 This company installs seamless acrylic shower walls. It fits right over your current shower and has a lifetime guarantee. The entire process only takes their expert installers 1 hour.
With this company, you can create your own ideal shower.
You can choose from four colors: white, pearl, white marble, or ivory marble. There are 10 different wall patterns, 27 faucet styles, 4 shelf choices, 5 kinds of soap dishes, 4 grab bar colors, and 2 doors or shower rods of differing colors.
Find Your Ideal Shower Enclosure With Frei Remodeling & Construction
When you love your shower, the experience of using your bathroom heightens dramatically. You feel comfortable and as though you can fully relax. It's a much better way to start or end your day.
You can contact us when you're ready to talk about your bathroom remodel in Tucson. Or, you can visit our bathroom remodeling page for more information.
Check Out Some Of Our Recent Posts
Dive Into The World Of Shower Designs Have you ever found yourself standing in your bathroom, looking at your shower, and wondering how you could
Read More »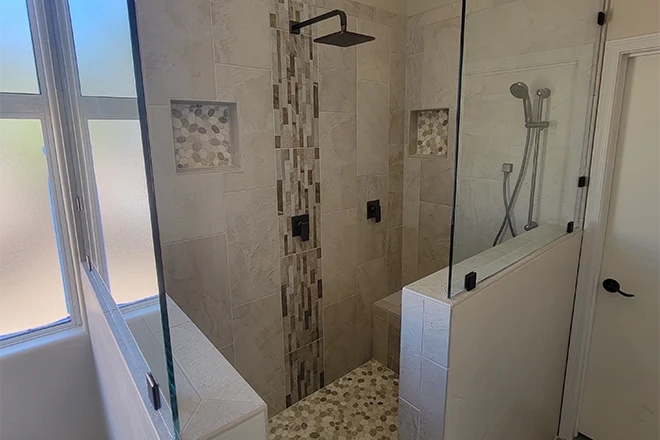 Discover The Best Shower Design Ideas Are you tired of your outdated bathroom? Do you dream of transforming your everyday routine into a spa-like experience?
Read More »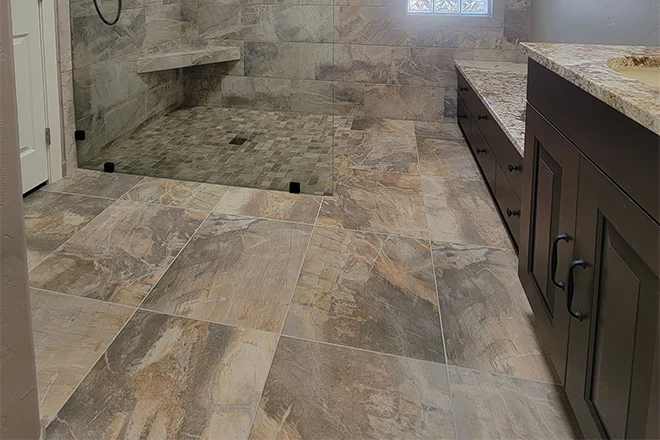 Help Elevate The Look Of Your Bathroom Ever wondered how to create a stylish yet functional bathroom floor? Looking for the perfect bathroom flooring ideas
Read More »