Design Ideas To Maximize Space And Comfort In Your Bathroom
Are you tired of your outdated bathroom and ready for a change? Do you dream of a functional and stylish space that meets your every need?
In this blog post, we'll explore 14 popular bathroom layouts that Tucson homeowners love, giving you the inspiration you need to create the perfect bathroom oasis.
We promise that by the end of this post, you'll have a better understanding of the various bathroom floor plans and how to choose the one that best fits your needs and lifestyle. Then you may want to know what bathroom trends people are avoiding now.
---
Popular Bathroom Layouts
1. Dual Vanity
The dual vanity layout features two separate sinks in the master bathroom, providing ample space for couples to get ready simultaneously without bumping elbows. This layout is perfect for those who value personal space and convenience.
---
2. Ever After
The Ever After layout is designed with long-term living in mind. It focuses on accessibility and comfort to accommodate the needs of homeowners as they age, ensuring their bathroom remains functional and comfortable for years to come.
---
3. Adaptable
The adaptable layout is versatile and can be easily modified to suit changing needs. This layout is perfect for growing families or those who anticipate their bathroom requirements evolving over time.
---
4. Soak-n-Shower
This layout combines a soaking tub and shower in one space-saving unit. It's perfect for those who want the luxury of a bathtub without sacrificing the convenience of a separate shower.
---
5. L-Shaped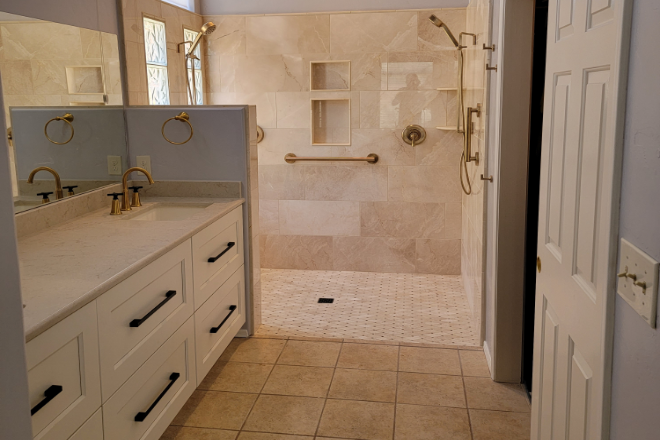 The L-Shaped layout uses two walls to create an L-shape with the bathroom fixtures, allowing for some separation between different areas of the bathroom, like the shower and sink. This design maximizes space while maintaining an open and inviting feel in your primary bathroom.
---
6. U-Shaped
The U-Shaped layout features fixtures arranged along three walls in a U-shape, with the shower or bathtub often located at the center of the space. This layout offers plenty of storage and counter space while keeping everything within easy reach.
---
7. Parallel
The Parallel layout features fixtures arranged in parallel lines along two walls, with the shower or bathtub typically located at one end of the space. This layout is ideal for narrow bathrooms, maximizing the available space while maintaining a comfortable flow.
---
8. Linear
The Linear layout places all bathroom fixtures along one wall, creating a clean and uncluttered look. This design is perfect for small bathrooms or spaces with limited square footage.
---
9. Galley
The Galley layout is similar to a parallel layout, but the shower or bathtub is also located along one wall instead of at the end of the space. This design is perfect for maximizing storage and counter space in a narrow bathroom space.
---
10. Jack-And-Jill
The Jack-and-Jill layout features a shared bathroom that typically has two sinks and separate toilet and shower areas. This design is ideal for siblings or roommates who share a bathroom, ensuring privacy and convenience for all.
---
11. Cozy
The Cozy layout is perfect for a small bathroom, focusing on functionality without sacrificing style. This layout utilizes clever storage solutions and compact fixtures to make the most of limited space.
---
12. Suite Style
The Suite Style layout is inspired by luxurious hotel bathrooms, featuring a separate walk-in shower and bathtub, double sinks, and an abundance of storage. This layout is perfect for those who want to create a spa-like retreat at home.
---
13. Powder Room Perfection
For half bathrooms or powder rooms, the Powder Room Perfection layout focuses on providing essential functionality while maintaining a stylish and welcoming atmosphere. This design often features a small sink, toilet, and mirror, with carefully chosen accents and fixtures to create a polished and inviting area without much floor space.
---
Design Rules For Bathroom Layouts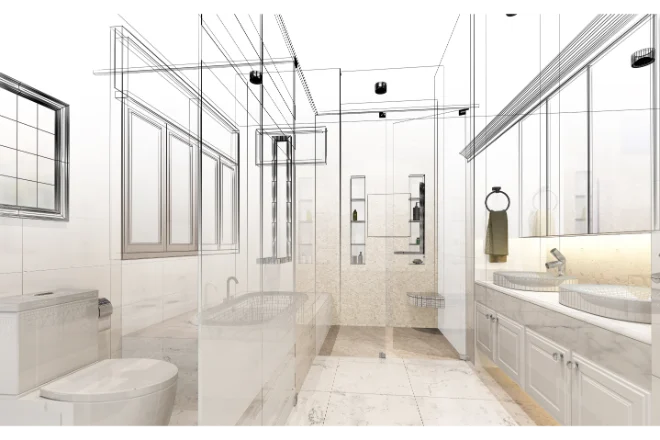 When planning your bathroom layout, it's important to consider the following design rules:
Consider the size of the bathroom and plan the layout accordingly.
Make sure there is enough space for all essential fixtures, such as the toilet, sink, and shower/bathtub.
Place the toilet in a spot that offers privacy and is not too close to other fixtures.
Ensure there is sufficient space around the sink for washing and grooming.
Provide enough space for storage, such as cabinets or shelves, to keep the bathroom organized and tidy.
Include proper ventilation to prevent mold and mildew growth.
Ensure there is adequate lighting, including natural light if possible, for functionality and ambiance.
Use durable and moisture-resistant materials for the flooring, walls, and fixtures to ensure longevity and ease of maintenance.
Consider the overall style and theme of the bathroom and choose fixtures and finishes that complement it.
Make sure the layout is accessible and easy to use for people of all ages and abilities.
---
Considerations For Bathroom Designs
When designing your bathroom, take into account the following considerations:
Size and shape of the bathroom space.
Bathroom space
Desired aesthetic and style of the bathroom.
Number and type of fixtures to include in the bathroom design.
Available plumbing and electrical infrastructure.
Budget and timeline for the project.
Functional needs and priorities, such as storage, accessibility, and privacy.
Lighting and ventilation options for improved ambiance and air quality.
Maintenance and cleaning requirements for the chosen materials and fixtures.
Integration of technology and smart home features, if desired.
Personalization and customization of finishes and fixtures to reflect the homeowner's preferences and style.
Consideration of resale value and marketability of the finished bathroom design.
Environmental sustainability and use of eco-friendly materials and products.
Privacy and soundproofing for toilet and shower areas.
Placement of electrical outlets and lighting fixtures for safety and convenience.
Integration of natural lighting options for improved energy efficiency and ambiance.
---
Enhance Your Bathroom Layout With Frei Remodeling
By exploring these popular bathroom layouts, you've gained valuable insights into the different design possibilities available to you. With this knowledge, you can make an informed decision on the perfect bathroom layout for your Tucson home.
At Frei Remodeling, we're here to help you turn your bathroom dreams into reality. Fill out our contact form today or give us a call to get started on your bathroom remodeling journey.