These Are The Brands We Recommend Using In Our Tucson Client's Kitchens
Some of the best kitchen cabinet brands from stock to custom include North American Cabinets, All Wood Cabinetry, Showplace, and more. They are all great choices for your kitchen remodeling project.
Find the rest below-
"Is that even a real acronym?" asks Amber.
Justin chuckles. "Not really, but it works for our situation. It stands for Which Would A Contractor Choose. In this case, probably something from the best kitchen cabinet brands."
Amber snorts and shakes her head. "Okay, fair enough I guess. But, you do have a good point. We should start looking for our new kitchen cabinets by brand. Maybe we can find a contractor who can recommend some for us to look at."
Justin looks up from his phone. "Oh. I actually just started by looking at local contractor blogs. Some of the stuff on here's really good to know, like the cost for new kitchen cabinets. Also, I found a kitchen cabinet brands post."
Here's what the couple discovers:
The Best Stock Kitchen Cabinet Brands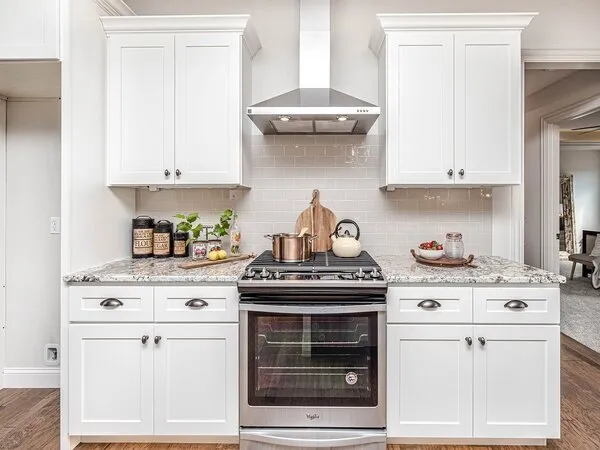 The best stock cabinet brands include IKEA and pretty much any big box store like Home Depot. Like most stock cabinet brands, they have limited colors and door styles. But, the quality is there and you can get them pretty quickly.
You may want to know the differences between stock and custom cabinets.
The Best Semi-Custom Kitchen Cabinet Brands
The best semi-custom cabinets are made by Merillat, All Wood Cabinetry, RTA*, and Siteline. They all provide quality cabinets. With semi-custom cabinets, you get more options for colors, door styles, and other options.
*RTA stands for Ready To Assemble, meaning you put them together yourself. This makes them less costly and they ship fairly quickly too
The Best Custom Kitchen Cabinet Brands
The best custom cabinet brands are North American Cabinetry, Composite Cabinets, Greenfield Cabinetry, and Showplace. The sky is basically the limit when it comes to designing custom cabinets.
But, with North American Cabinetry the sky isn't a limit. You can do almost anything when it comes to design and style.
Showplace cabinets are highly customizable while also being more affordable.
You May Also Like To Know
"So, we do some digging on these brands and go to a contractor from there," suggests Amber. Justin nods. "Sounds like a plan! Why don't we also poke around on this blog some more? Might find more good info."