This Is How Much Our Clients In And Around Tucson Are Investing To Fix Up Their Bathrooms So They Look Beautiful Again
It's always a smart idea to know the cost for a large purchase like a home improvement project. Then you can better plan and budget, which leads to less stress and anxiety.
In this post, you can find out the cost of a complete bathroom remodeling project and what it can include. You can also uncover what is the average cost and what mainly makes the price change. Finally, you can see the cost for bathroom cabinets and what can change it.
Our Bathroom Is Falling Apart!
"Take a good look around," says Amber.
Justin poke his head into their master bathroom. "Yeah, that's our bathroom all right," he says jokingly. Amber sighs, rolling her eyes. "Do you not see the damaged tiles, the cabinets are coming apart, and it's outdated."
Justin sucks his teeth. "Yeah, yeah it's definitely ours. I can tell because it needs a remodel. Do you know what the cost of remodeling a bathroom is? Or what a bathroom remodel looks like, how to and timeline-wise?"
Amber shrugs. "I don't know, but we should at least look up 'what is the average cost to remodel a bathroom in Tucson' on Google." Justin nods, taking his phone out to search. "Let's do it then. We can also look up some bathroom remodeling ideas."
Here's what the couple discovers:
The Cost Of Remodeling A Bathroom
The cost of remodeling a bathroom in Tucson usually ranges from $22,000 to $65,000 and higher. The average cost to remodel a bathroom is around $36,000. Bathroom remodeling costs mostly depend on your bathroom size, job complexity, fixture number, age, any damages, material choice, finishes, and vanities.
Cost Of A Bathroom Remodel From Basic To High-End
Basic Bathroom Remodeling Cost
A basic bathroom remodel costs about $22,000. This is mostly for hall and guest bathrooms. It can include:
A fresh paint job
New stock vanities
New countertops
New mirror
New light fixtures
It can also include replacing or refinishing your bathtub as well as installing new plumbing fixtures, flooring, and wall tile.
What Is The Average Cost To Remodel A Bathroom?
The average cost to remodel a bathroom in Tucson is around $36,000. It can include:
Installing a new double-sink vanity with premium hardware
Upgraded quartz or granite countertops
Re-tiling the shower and giving it a semi-frameless glass enclosure
New flooring
A fresh paint job
New lighting
A new mirror
New plumbing fixtures
High-End Bathroom Remodeling Cost
The cost to do a high-end bathroom remodel is $65,000 and higher. This is mostly for master bathrooms. It can include:
Installing a custom tile shower with a heavy, frameless glass enclosure
Upgraded quartz or granite countertops
New mirror
Reconfiguring your lighting scheme with its own smart controls available
Premium vanity and tile selections
Fresh paint
Heated floors
You can also choose custom steam or body-spray shower if you wish.
The 8 Main Cost Changing Factors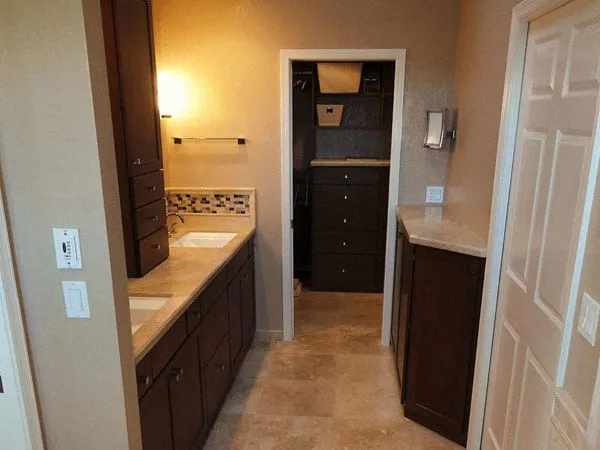 1. Bathroom size. Smaller bathrooms take fewer materials. They can also take less time and materials to finish. But, depending on the other factors here it can still be a costly remodel. Larger bathrooms tend to take more time, labor, and materials to finish.
2. Job complexity. The cost also changes based on how much you want to do. Less complex jobs are usually just changing the look, making them less costly. More complex projects involve moving or adding fixtures and features. 
3. The number of fixtures. More fixtures mean more to remodel. This means more time, labor, and materials are needed. Master bathrooms cost more mainly due to size and because they have 2 sinks, a bathtub, shower, and toilet. That's 2 to 3 more fixtures than the hall and guest bathrooms.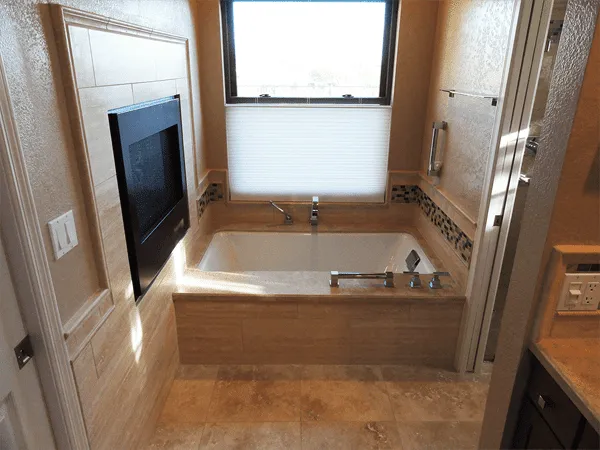 4. Age. Newer bathrooms are more up-to-date with electrical, plumbing, and other areas. This makes them easier to update. Older bathrooms often need those to be updated. You can also find more damages in older bathrooms due to age.
5. Damages. Remodeling a bathroom can uncover damages that need fixing, like water damage and moldy areas. It's best to fix them before moving on. Otherwise, they'll get worse and more costly.
6. Material choice. The cost for a complete bathroom remodel changes based on what materials you choose. You can choose somewhere in the range of basic and high-end materials. Basic is cheaper, but it doesn't look as good or last as long as higher-end materials.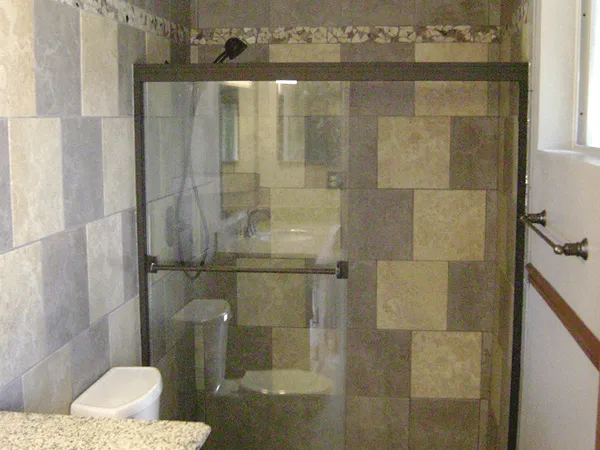 7. Finishes. Paints, stains, tile, wallpaper, waterproofing, and other finishes all change the cost.
8. Vanities. This is mainly for master bathrooms. One long vanity with two sinks will have a different price than two separated vanities. It also depends on your material choice.
How Much Do Bathroom Cabinets Cost?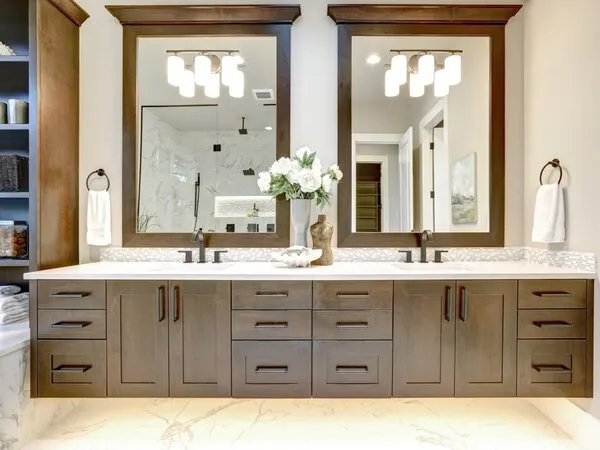 The cost for bathroom cabinets, including the vanities, can cost $100 to $275 per square foot. Any finishing work can add $50 to $100 per linear foot. For a master bathroom double-sink vanity 6 to 8 feet long, the cost can range from $500 to $3,200.
What Mainly Changes Bathroom Cabinet Costs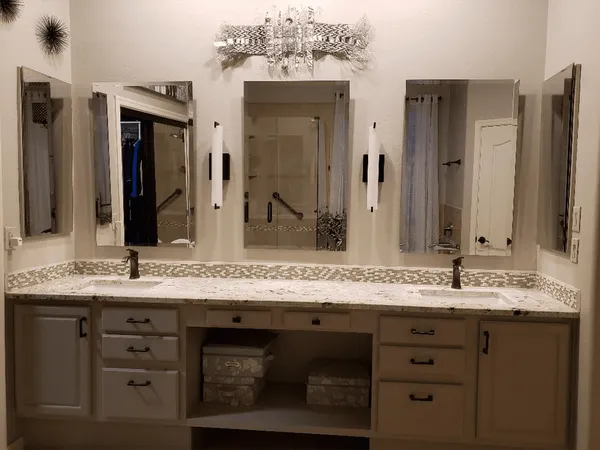 The number of cabinets. One of the major cost factors is how many cabinets you choose or fit in the space. More cabinets mean more materials, labor, and time while fewer means less.
Materials. Plywood is a great cabinet material, but some people want to use a different material. Hardwoods are more expensive but tend to look better. Just be sure to seal any bathroom cabinets against moisture!
Complexity. Some bathrooms have layouts that make them harder or easier to work in. The cabinets themselves can be more complex. Rollouts, built-in dividers, glass doors, and other additions can increase the cost of bathroom cabinets.
You May Also Like To Know
"Oh, our bathroom is going to look amazing after we remodel it," sighs Amber happily. Justin nods. "I agree. While we're here, let's look at the other bathroom posts and use them to help us plan some more," he suggests.