See What A Kitchen Remodel Can Do For Your Arizona Home
You can see how a full kitchen remodel can change the feel of your home. Modern kitchens are elegant, classy, and just look amazing, as you can find out.
See the transformation in the post below:
"This kitchen island is too big and our kitchen is dated. It's time for a change."
Mike looks over to see the frown on Jess's face. "So, are you saying it's finally time for us to do a full kitchen remodel?!" Jess turns to look at him. "Yes. Let's find someone who can transform our kitchen into the one we need and deserve."
Mike whips out his phone and gets on Home Advisor. Jess comes over to help him find a remodeling contractor near them. They also turned to the Internet when looking up kitchen remodeling ideas.
"This one has great reviews! Frei Remodeling & Construction sounds good to me," Mike says. Jess takes out her phone. "Let's call them and see what we can do!"
Will They Hire Frei Remodeling And Construction?
The couple gets in contact with Joe Frei, owner, salesman, and project leader. They set up a time for a consultation and design overview.
The day of the consultation comes.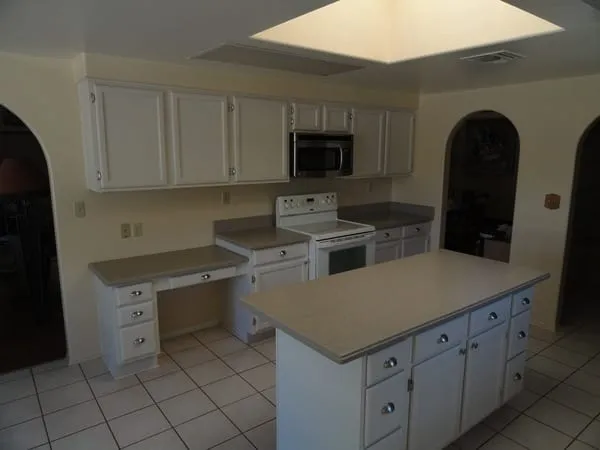 "We would like to have a hand in the design and material selection," Jess tells Joe. "Yeah, like tile floors, granite countertops, and walnut cabinets," Mike follows up.
"We can definitely do that," Joe says with a smile. They keep talking about different designs and materials. They finally get to the contract part and decide to go ahead with Frei Remodeling & Construction.
A Full Kitchen Remodel In Oro Valley
The main parts of this full kitchen remodel are:
New, different ceiling lights
Walnut kitchen cabinets
Glass doors for some cabinets
Lighting inside the cabinets
Granite countertops
New tile for kitchen floor
New and more appliances
Any holes in the walls were repaired and painted over. The cabinets have dovetail drawers, smooth close drawers, and pull out shelves. Smaller things were done too, like changing where appliances were.
The entire project took 8 weeks from start to finish. "It's AMAZING!!" Mike and Jess say in unison:
You May Also Like To Read
"Now this is the kitchen that I've been dreaming about," Jess sighs happily. Mike starts pulling out cookware. "Let's celebrate with a nice, home-cooked meal. Don't worry, I'll make sure it's spotless after." Jess smiles and the couple gets to cooking in their dream kitchen.