Discover The Best Shower Design Ideas
Are you tired of your outdated bathroom? Do you dream of transforming your everyday routine into a spa-like experience?
In this blog post, you will discover a multitude of shower design ideas that can turn your bathroom remodel dreams into reality.
By the end, you will have the knowledge to create a space that reflects your style, meets your practical needs, and elevates your showering experience. Then, you might want to know how we remodel bathrooms and how long it can take.
---
Shower Designs Tucson Natives Love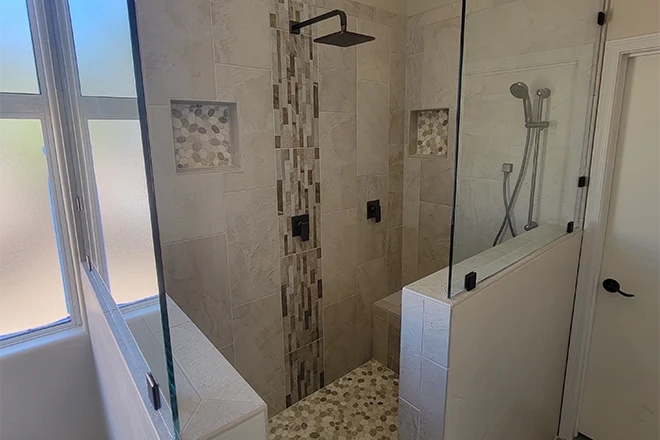 In the sunny city of Tucson, residents favor shower designs that incorporate natural light.
Large walk-in showers with glass walls are popular, allowing sunlight to stream in, and brightening the entire bathroom.
Additionally, doorless walk-in showers are loved for their accessibility and easy transition from the rest of the bathroom.
---
Shower Design Ideas For Your Bathroom Remodel
Sleek And Minimalist Shower Designs
For those who love the modern bathroom look, sleek and minimalist designs are the way to go.
Think clean lines, neutral color palettes, and simple yet high-quality materials.
Frameless glass enclosures are a top choice, providing a seamless transition between the shower and the rest of the bathroom.
Recessed wall niches for storage and floating shower benches are additional features that contribute to the minimalist aesthetic.
Luxurious And Spa-Like Shower Designs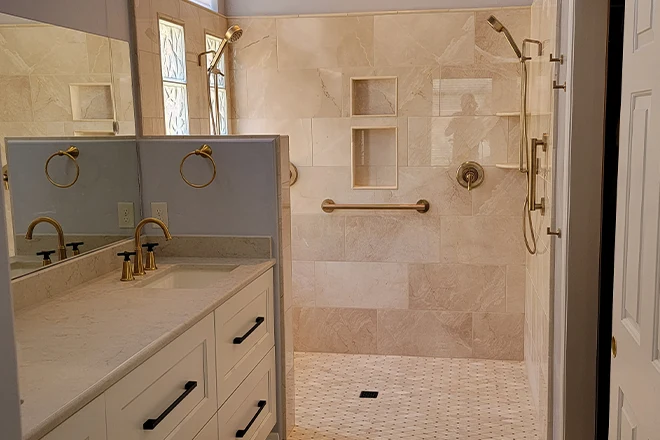 Dreaming of a spa-like vibe in your primary bathroom?
Start by installing a large walk-in shower with natural stone accents. You might also consider floor-to-ceiling glass enclosures for a spacious and opulent feel.
And for the ultimate luxury? Dual showerheads for a couple's retreat.
Bold And Artistic Shower Designs
For those with a creative spirit, bold and artistic shower designs are a must.
Consider shower walls with vibrant colors and textures or even mosaic tile murals and patterns. Statement lighting fixtures can add an extra dash of personality and visual interest.
You can find different bath fitters and shower enclosures to match your style.
Small Bathroom Shower Design Ideas
Working with a compact space? Don't worry; small bathrooms can be equally stylish and functional.
Corner shower stalls with curved glass can fit perfectly into tight spaces, and wet room designs offer amazing space efficiency. Consider glass block walls to ensure privacy while still allowing light in.
Unique And Innovative Shower Design Materials
Moving beyond traditional tiles, consider unique materials for your shower design.
Textured glass panels, concrete finishes, or even wood and natural elements can bring a distinct and warm atmosphere to your bathroom shower.
Shower Designs That Embrace The Outdoors
If you love the great outdoors, bring that feeling into your bathroom design with indoor-outdoor shower combinations.
Skylights and large windows can flood your shower with natural light, while incorporating plants and greenery brings a touch of nature inside.
Geometric Shower Designs
Geometric designs are a modern and stylish choice for any bathroom.
Consider hexagonal or triangular glass enclosures or geometrically inspired tiles and patterns. Angular showerheads and faucets can also add a fresh and contemporary feel.
Open And Airy Shower Designs
For a spacious and light-filled bathroom, consider open and airy shower designs.
Barrier-free walk-in showers and partially enclosed showers with glass panels can create a seamless bathroom flow. Open-concept designs can make even small bathrooms feel larger and more welcoming.
Themed And Inspired Shower Designs
Consider a themed shower design that reflects your personality.
Love the beach? Consider coastal elements for a beach-themed shower, like seashells and blue mosaic tiles.
For a zen-inspired shower, think bamboo accents and natural stone.
If you love vintage charm, consider installing antique fixtures in your shower design.
Shower Designs With Creative Lighting
Lighting can significantly impact the mood of your bathroom.
Consider LED-lit showerheads and faucets for a futuristic touch. Recessed wall and floor lighting can create a relaxing ambiance, and illuminated built-in storage and shelving add practicality and style to your shower design.
Shower Designs With Architectural Features
Architectural features can add character to your shower design.
Consider curved or arched shower enclosures for a classic aesthetic or showers with exposed brick or concrete walls for an industrial vibe. Shower alcoves and recessed spaces can add depth and visual interest to your bathroom design.
Shower Designs With Statement Tiles
Tiles are a great way to inject personality into your shower design.
Consider 3D textured tiles for a tactile experience or large-format tiles for a seamless look. Don't be afraid to mix and match tile patterns and materials for a truly unique shower.
Multi-Functional Shower Designs
Make your shower work double-duty with a multi-functional design.
Showers with built-in seating and relaxation areas can turn your daily routine into a spa-like experience. Shower spaces that double as steam rooms are another luxury addition.
And for pet owners? Integrated pet washing stations can be a game-changer.
---
Walk-In Shower Design Ideas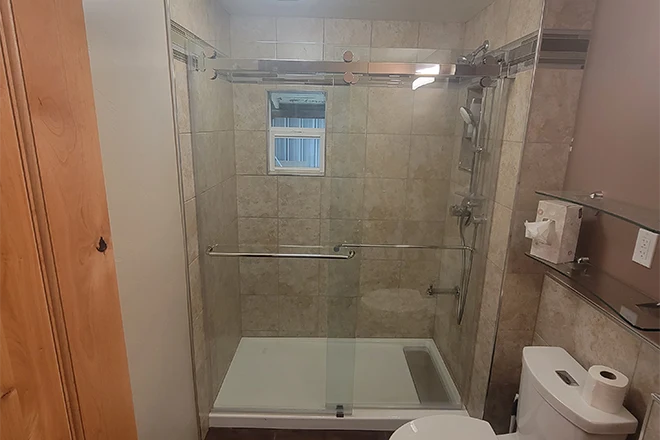 Luxurious Spa-Inspired Walk-In Shower
Enhance your primary bathroom with a luxurious, spa-inspired walk-in shower.
Incorporate multiple showerheads, including a rain shower head, and a built-in bench for a spa-like experience.
Use neutral marble tiles on the shower walls to create a serene, spa-like vibe.
A glass wall allows natural light to flood the entire space, enhancing the luxury feel.
Complete Luxury: Fully Equipped Walk-In Shower
Indulge in complete luxury with a fully equipped walk-in shower.
Think of multiple showerheads, a built-in seat, and plenty of storage for a shower experience that's both comfortable and convenient.
You might also consider high-end materials like neutral marble tiles for a truly luxurious feel.
Elegant Sanctuary: Sophisticated Walk-In Shower Room
Create an elegant sanctuary with a sophisticated walk-in shower room.
Luxury features like a freestanding tub, gorgeous tile work, and gold hardware can make this space feel like a personal retreat. Add a built-in bench for an extra touch of comfort and luxury.
Seamlessly Stylish: Contemporary Walk-In Shower
A contemporary walk-in shower can blend seamlessly into your modern bathroom design.
Consider clean lines, neutral tones, and a glass enclosure to give your bathroom a sleek and stylish look. Incorporate a built-in seat in your shower design for added comfort and functionality.
Refreshing Airflow: Walk-In Shower With Door Ventilation
Design a walk-in shower with built-in door ventilation to allow for refreshing airflow.
This shower design feature can be especially beneficial in bathrooms that lack natural light or ventilation. Opt for a door with chrome fixtures to add a modern touch.
Striking And Unique: Standout Walk-In Shower
Showcase your individual style with a striking and unique walk-in shower.
Experiment with gorgeous tile work, gold hardware, and even two shower heads for a truly standout design.
Artistic Charm: Patterned Tile Walk-In Shower
Patterned tiles can give your walk-in shower an artistic charm.
Consider using black and white design tiles for a striking contrast, or go for a more subtle, neutral color scheme.
Organic Serenity: Stone-Encased Walk-In Shower
Achieve a sense of organic serenity by using natural stone on your shower walls.
A stone-encased walk-in shower can create a calming, nature-inspired vibe.
The shower's back wall can feature a larger stone piece as a unique focal point, enhancing the spa-like experience.
Classic Grace: Traditional-Style Walk-In Shower
Bring classic grace into your bathroom with a traditional-style walk-in shower.
This design could feature a shower curtain or enclosure with elegant patterns, brass fixtures, and white tile for a timeless look.
This style pairs well with a freestanding tub for a complete, classic bathroom remodel.
Inspiring Tile Selection: Tile for Walk-In Showers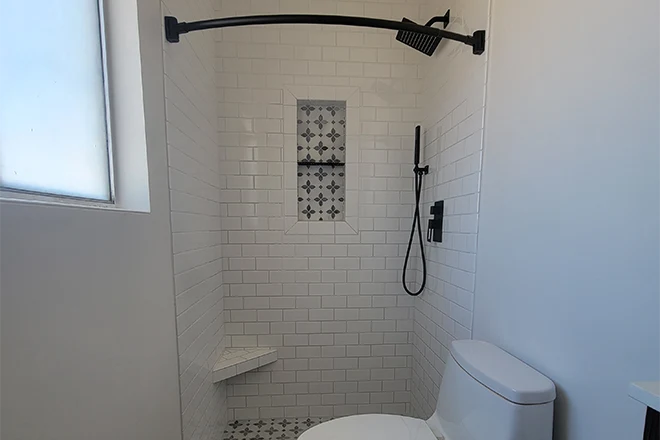 From the timeless appeal of white subway tile to the natural charm of slate, your tile selection can express your personal style.
You could even consider mixing different tile types for a custom shower design that's uniquely yours.
Expansive Oasis: Spacious Walk-In Shower
Turn your bathroom into an expansive oasis with a large-scale walk-in shower.
Ideal for large bathrooms, this design can include a double-duty shower bench, multiple showerheads, and plenty of room to move around. Add a glass wall for an open, airy feel.
Graceful Archways: Arched Walk-In Shower
Graceful archways can add a unique architectural element to your walk-in shower design.
A curved shower surround can soften the bathroom's overall look and feel, bringing a touch of elegance and sophistication to the space.
Tranquil Spa Haven: Spa-Like Walk-In Shower
Create a tranquil spa haven in your own home with a spa-like walk-in shower.
Consider adding elements like a rainfall showerhead, a built-in bench, and a soothing color palette. This design provides a spa-like experience every time you step into the shower.
Illuminated Bliss: Lighting Enhancements For Walk-In Shower
Strategic lighting enhancements can enhance the shower experience and improve visibility.
Recessed lighting, for instance, can create a soothing atmosphere, while a skylight can flood the space with natural light.
Functional Comfort: Walk-In Shower With Seating
A built-in seat or bench can make the shower more accessible and comfortable, providing a place to sit and relax. This design feature is especially beneficial for those who prefer long, relaxing showers.
Grand Retreat: Large-Scale Walk-In Shower
Design a grand retreat in your own home with a large-scale walk-in shower.
Suitable for large bathrooms, this shower design idea can include luxury features such as a double shower head, a spacious built-in bench, and a seamless glass enclosure.
Modern Simplicity: Contemporary Walk-In Shower
Think clean lines, a minimal color palette, and sleek fixtures.
A seamless glass enclosure can create an open, spacious feel, while a built-in bench adds a practical touch to the shower design.
Abundantly Bright: Natural Light-Filled Walk-In Shower
Make your walk-in shower abundantly bright with the help of natural light.
A skylight or a glass wall can flood the space with daylight, creating a light and airy atmosphere.
If privacy is a concern, consider frosted or textured glass that lets light in while maintaining your privacy.
Innovative Walk-In Shower Concept
Picture a large walk-in shower with a glass enclosure, chrome fixtures, and a shower bench.
A shower special could include a modern showerhead that makes the shower experience feel luxurious.
Imagine a rainfall showerhead coupled with a heavy-duty grab bar for safety, making the shower design both functional and stylish.
Open Concept: Non-Enclosed Walk-In Shower
For a modern, spacious feel, consider an open-concept, non-enclosed walk-in shower.
This design creates a seamless transition between the shower and the rest of the bathroom, making the entire space feel larger and more open.
It's an excellent option for small bathrooms where space is at a premium.
Spa-Inspired Indulgence: Walk-In Shower And Steam Room
Take your bathroom to the next level with a spa-inspired walk-in shower and steam room.
This luxurious design idea can transform your daily shower into a relaxing, spa-like experience.
Opt for natural light, soothing colors, and a comfortable built-in bench to complete this indulgent shower design.
Delicate Details: Walk-In Shower Embellishments
Give your walk-in shower a personal touch with delicate details.
Embellishments like gold hardware, unique tile patterns, or a built-in niche can make your shower design stand out.
Nature's Delight: Nature-Inspired Walk-In Shower
Bring the outdoors in with a nature-inspired walk-in shower.
Use materials like stone or wood-look tile for a natural aesthetic. A window or skylight can provide plenty of natural light, enhancing the nature-inspired design.
Tranquil Hideaway: Walk-In Shower Retreat
Turn your bathroom into a tranquil hideaway with a relaxing walk-in shower retreat.
A rainfall showerhead, calming color scheme, and soothing lighting can create a peaceful, spa-like vibe. Add a built-in seat for a place to sit and unwind after a long day.
Efficient Modernity: Streamlined Walk-In Shower
For a clean, modern look, consider a streamlined walk-in shower.
Minimalist design elements, neutral tones, and efficient use of space can make your shower not only stylish but also practical. A frameless glass enclosure and white bathroom fixtures can enhance this sleek, modern look.
Stylish Simplicity: Small Walk-In Shower Design
Embrace stylish simplicity with a small walk-in shower design.
This design idea is perfect for small bathrooms, combining functionality with style. Opt for a glass door or curtain, clean lines, and a simple color palette to create a feeling of spaciousness.
Corner Gem: Corner Walk-In Shower
A corner walk-in shower can be a gem in a small bathroom.
This design uses the space efficiently and can make the bathroom feel larger. A glass enclosure can keep the space open and light, while a corner bench can provide a comfortable spot to relax.
Artistic Fusion: Mixed Tile Walk-In Shower
For a unique touch, consider an artistic fusion of mixed tile in your walk-in shower.
Combining different tile colors, shapes, and textures can create visual interest and showcase your personal style. From neutral marble tiles to colorful mosaics, the possibilities are endless.
Compact Doorless Walk-In Shower
Imagine stepping into a compact, doorless walk-in shower that maximizes your small bathroom space while maintaining a modern design.
The beauty of a doorless shower is that it offers easy access, eliminating the need for glass doors or shower curtains.
Consider a neutral color palette and a seamless transition from the bathroom floor to the shower floor to make the entire bathroom look spacious.
Minimalist Beauty: Simple Walk-In Shower
Embrace minimalist beauty with a simple walk-in shower design.
This design emphasizes clean lines, a neutral color palette, and uncluttered space. A glass enclosure, white subway tile, and chrome fixtures can complete this minimalist look.
---
More Bathroom Shower Design Ideas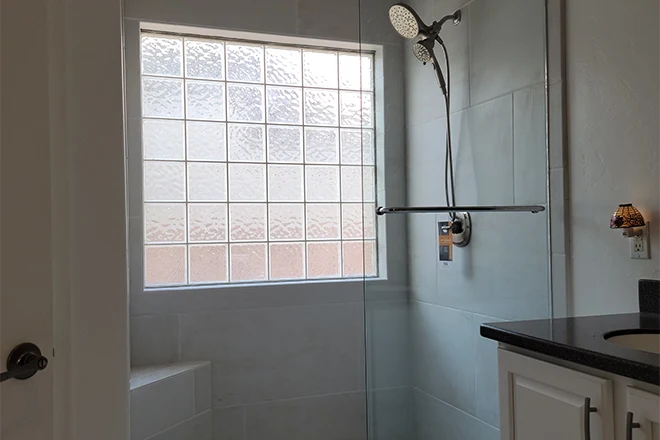 Fusion of Glass: Walk-In Shower And Tub Combination
Consider a fusion of glass in your bathroom remodel.
A walk-in shower and tub combination, enclosed by frameless glass walls, can create a seamless transition in your bathroom.
This design idea is perfect for those who love the convenience of in-shower tubs but also want a separate shower area.
Timeless Elegance: Subway-Tiled Shower
White subway tile offers timeless elegance that can enhance any bathroom style.
This tile color is versatile and can fit with various designs, from modern to traditional. Use it on your shower walls for a classic, clean look that will brighten up your entire bathroom.
Rugged Beauty: Slate-Clad Bathroom Shower
Infuse your shower design with rugged beauty by using slate tiles.
These tiles create visual interest on your shower wall, and their natural color variation can complement a neutral palette.
This bathroom shower idea is perfect for those who love a more rustic or earthy design aesthetic.
Clever Storage Solution: Built-In Shower Shelving
Built-in shower shelving is a clever storage solution for your walk-in shower.
It's a practical way to store your shower essentials without cluttering the shower floor. Whether it's recessed shelving or a tile rack, a built-in storage solution can help keep your shower area tidy and organized.
Organized Elegance: Shower Tile Rack
Keep your shower essentials organized with a shower tile rack.
This functional addition to your walk-in shower adds an element of elegance while keeping your bathroom tidy. Choose a rack that matches your tile color for a seamless look.
Make these design ideas even better with some must-have shower accessories.
---
Transform Your Bathroom Today with Frei Remodeling & Construction
We've walked through an array of shower designs, ranging from the sleek and minimalist to luxurious and spa-like, and even bold and artistic. We've explored small bathroom solutions, innovative materials, and designs that embrace the outdoors.
Whether you've got a large bathroom waiting to be filled with a roomy shower or a compact space needing efficiency, or other shower ideas, we've covered it all.
Frei Remodeling & Construction specializes in bringing your vision to life, performing incredible and efficient bathroom remodels that meet your needs and exceed your expectations.
When you're ready to begin, fill out our contact form or give us a call.