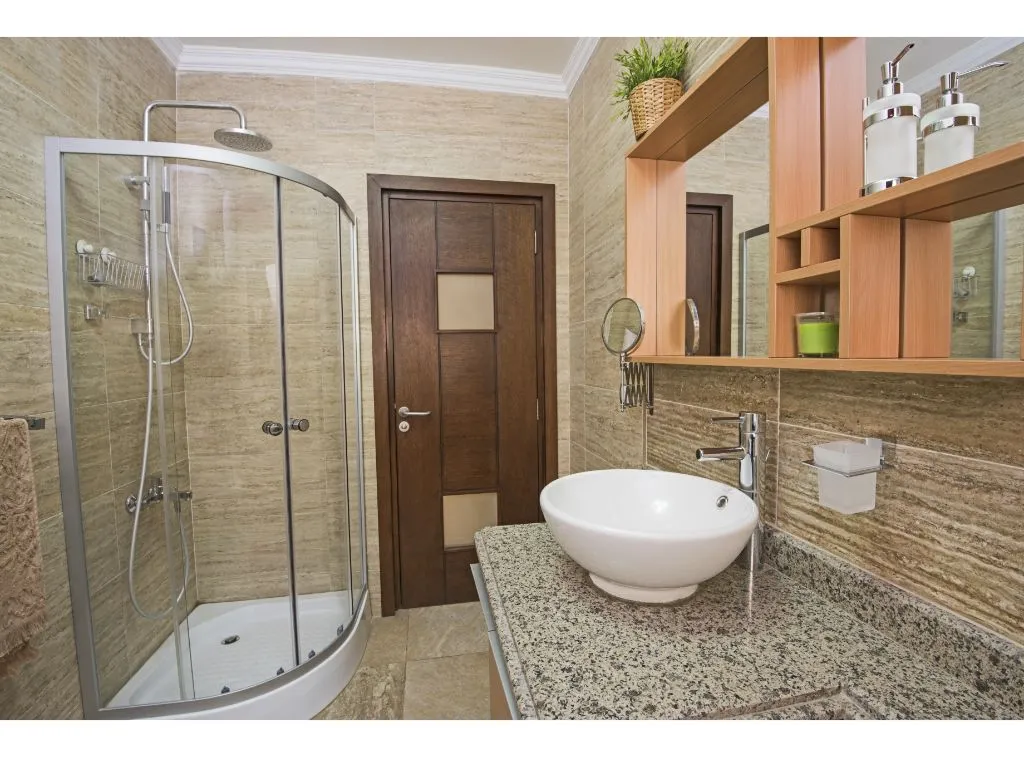 At Frei Remodeling and Construction LLC, our driving goal is to help you make your bathroom and its floor an inviting place. As a multigenerational family business, our core values include fairness, honesty, and quality workmanship. We have exceptional skills and experience in the fields of additions, residential renovations, kitchen remodeling, and bathroom improvement.
We make customer service the main pillar of our business, and we also make it a point to give our customers the information that they need to succeed in their remodeling efforts. As such, we are happy to offer you these bathroom flooring ideas. You can use them to inspire your future installation plans.
Flooring Ideas That Stand the Test of Time
Your bathroom and the floor that supports it are major players in your overall home design. Lots of planning and hard work go into creating your dream bathroom. The flooring and other fixtures that you place in your washroom will be there for a long time.
Therefore, you must ensure that the bathroom floor tiles or other materials that you choose are durable, compatible, and safe. We're pleased to provide you with this guide to give you some solid flooring ideas that will help you to design the right bathroom floor for your needs.
Things to Look for in a Bathroom Floor
Regardless of the kind of bathroom floor that you eventually choose, you'll want to select material and workmanship that stands up to the tests of time. Some things to look out for include:
Impact and Dent-Resistance
Bathrooms are places where lots of action happens. People bring plenty of hard and heavy objects into bathrooms for various reasons. At some point, bathroom users may drop or otherwise lose control of some of these items. For example, an individual may lose control of and drop a hair dryer, clippers, or any other heavy item.
To prevent damage to your future bathroom floor, choose materials that have robust protection from possible sources of impact damage. When it comes to protecting your future floor from potential harm, a little prevention can save you time and effort in the future.
Resistance to Color Fading
Depending on where your bathroom windows are, different areas of your floor may receive varying quantities of sunlight. Over time, tiles or materials that absorb more sunlight than other areas may fade or change color. Manufacturers of quality flooring tiles and materials thoroughly test their products for susceptibility to sun damage.
Therefore, if you take note of the manufacturer's notes about fade resistance, you'll find yourself and your bathroom floor ahead in the game.
Wear-Resistance
Unlike other areas of your home, the bathroom will receive lots of traffic. As your friends and family members make use of the facilities, the floor must support this traffic — for years on end — without showing any signs of deterioration. Inferior bathroom flooring materials may look good for a short while, but they'll succumb to wear damage sooner rather than later.
To avoid this, make sure you research your eventual flooring choice for resistance to wear. You can also call our experts at Frei Remodeling and Construction LLC for immediate assistance and advice about how to proceed with your flooring material acquisition efforts.
Slip-Resistant
Bathrooms have faucets, bathtubs, and shower heads. All these devices produce plenty of water for your various needs. In addition, these water fixtures produce lots of hot water and steam, which then condenses onto floor surfaces. To ensure that your bathroom floor stays dry and safe, it makes sense to choose materials and accessories that are slip and moisture-resistant.
Water-Resistance
Other than your kitchen sink or your washing machine, your bathroom floor is one of the wettest spots in your home. To ensure that your bathroom floor stays in top condition, use flooring materials that resist progressive water damage.
Bathroom Flooring Options
When it comes to bathroom flooring materials, you have a wide range of materials available. Each bathroom flooring option has its own unique benefits, but you should also make your bathroom flooring idea choice based on how well each material fits your needs and tastes.
Some of the most popular bathroom flooring ideas include:
1. Waterproof Laminate Flooring
Laminate flooring enjoys widespread popularity. Waterproof laminates resist moisture damage and come in various finishes. They can also mimic the look of different flooring materials and are often budget-friendly.
2. Waterproof Vinyl
Vinyl bathroom floors offer lots of perks. Thicker versions make good insulators and are also durable. Waterproof versions prevent moisture damage, and you can find slip-resistant designs too. Vinyl does a good job of recreating the look of other popular materials.
3. Waterproof Carpet
This material offers the comforts of a carpet in your bathroom. Modern designs get rid of excess moisture and are slip-resistant.
4. Porcelain Tiles
Many people prize porcelain tiles for their beauty and durability. That said, they may become less slip-resistant over time.
5. Mosaic Tiles
Although they can be labor-intensive, mosaic tiles allow you to express your artistic sentiments. Mosaic tiles are generally on the small side – they are often no more than two inches across. Installers use hundreds or thousands of these diminutive styles to create visually stunning, practical, and durable bathroom floors.
6. Engineered Hardwood Floors
Engineered wood floors use real wood for the outer layers and artificial fillers in the middle. They thus offer outstanding durability, a real wood feel, slip resistance, and moisture protection.
At Frei Remodeling and Construction LLC, we can design, install, and maintain the tile floor design of your choice. Moreover, we partner with you to bring your bathroom flooring ideas to life. Fill out a form on our contact page to get started!