A New Look For Your Tucson Bathroom
Ever thought about how a double vanity could transform your bathroom? Wondering what it might cost to make that new bathroom vanity dream a reality with a bathroom remodeling project in Tucson?
In this post, we'll walk you through the ins and outs of bathroom vanity installation costs, with a special focus on the unique factors at play in Tucson.
By the end of this read, you'll have a clear understanding of what to expect and how to make the most of your investment. Let's dive in!
---
The Cost Of Installing A Double Vanity In Tucson
When it comes to installing a double vanity in Tucson, costs can vary. Factors like the size and type of vanity, the materials used, and labor costs all come into play.
But don't worry; we'll break down these factors in detail to help you understand how they influence the overall bathroom vanities cost.
---
The National Double Bathroom Vanity Cost
On a national scale, the cost of installing a double vanity can range widely, from $300 to $3,800. Most homeowners spend between $500 and $1,200, though the national average is around $1,500. This cost includes labor, materials, and supplies, but can vary depending on the location and the specifics of the project.
---
Why Tucson And National Costs Are Different
Tucson, like any city, has its own unique cost factors. The local market for materials and labor, the average size of bathrooms, and even the local climate can all influence the cost of installing a double vanity in Tucson.
---
Factors Influencing The Cost To Install A Double Sink Vanity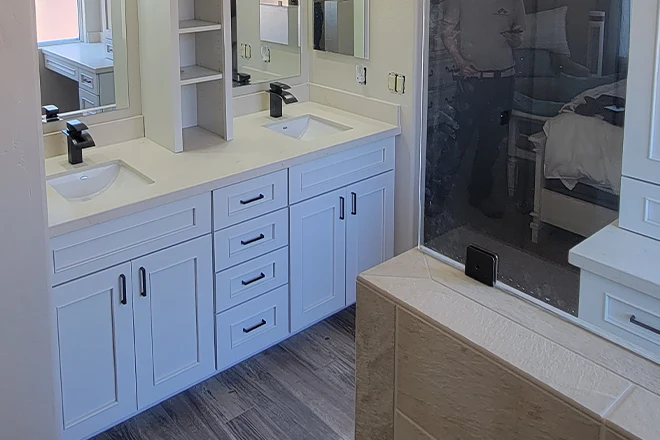 The cost of installing a double vanity is influenced by several factors. Let's take a closer look at each of these.
---
Vanity Size
The size of the vanity can significantly affect the cost. Larger and more complex vanities, like those with a lot of bathroom cabinets or unique features, tend to be more expensive to install.
---
Vanity Type Or Style
Bathroom vanity styles and types have different costs. This is due to how they are installed and how well they are made
For example, a freestanding vanity might be less expensive to install than a wall-mounted one.
---
Vanity Cost
The cost of double sink vanities themselves is a major factor. More expensive vanities will increase the overall cost of the project.
For instance, a custom vanity will likely cost more than a premade vanity.
---
Material Choice
The materials you choose for your vanity can also affect the cost. High-end materials like marble or granite will be more expensive than more budget-friendly options like plastic resin or other composite materials.
---
Additional Materials
Additional materials needed for the installation, such as plumbing supplies, can also add to the cost. For example, if new plumbing lines need to be installed or old ones need to be rerouted, this will increase the cost.
---
Who Does Your Project
Who you choose to install your vanity can also affect the cost.
DIY
Doing it yourself can save money, but it might be more time-consuming and challenging.
If you're handy and have the time, this could be a good option. However, keep in mind that if you're not experienced, you could run into problems that could end up costing more in the long run.
Budget-Friendly Contractor
Hiring a budget-friendly contractor can be a good middle-ground option.
They can offer a balance of reasonable cost and professional installation, though you won't get the same top-tier service as with a higher-end contractor. Make sure to check reviews and references to ensure you're getting a reliable and quality service.
High-End Bathroom Remodeler
If you're looking for a high-end bathroom remodel, hiring a professional company like Frei Remodeling & Construction might be the best choice. While this option might be more expensive, you're paying for a high level of expertise and guaranteed quality.
---
Labor Cost
The cost of labor can vary depending on the complexity of the installation and the rates of the professionals hired. In Tucson, the cost of labor might be different than the national average due to local market conditions.
---
Additional Costs And Considerations
Additional costs and considerations include the difference in cost between a prefabricated versus a custom vanity, old vanity removal and disposal fees, backsplash installation, plumbing considerations, and additional modifications and customizations.
Prefabricated vs. Custom Bathroom Vanities
A prefabricated vanity is a ready-made vanity that comes in standard sizes and styles. A premade bathroom vanity is generally less expensive but offers less flexibility in terms of design and size.
On the other hand, a custom vanity is designed and built to your specific requirements. While more expensive, a custom vanity can be designed to fit your space perfectly and match your desired style.
Old Vanity Removal And Disposal
If you're replacing an old vanity, there will be costs associated with removing and disposing of the old one. This could include labor costs for the removal and fees for disposing of the old vanity at a waste facility.
Backsplash Installation
A backsplash is not always included with a vanity installation. If you want a backsplash for your vanity, this will be an additional cost. The cost will depend on the size of the backsplash and the material you choose.
Plumbing Considerations
If your new vanity requires the plumbing to be moved or adjusted, this will be an additional cost. This could include moving water lines or drain pipes.
Additional Modifications And Customizations
Any additional modifications or customizations will also add to the cost. This could include things like adding additional storage or custom hardware.
---
Double Vanity Options And Their Costs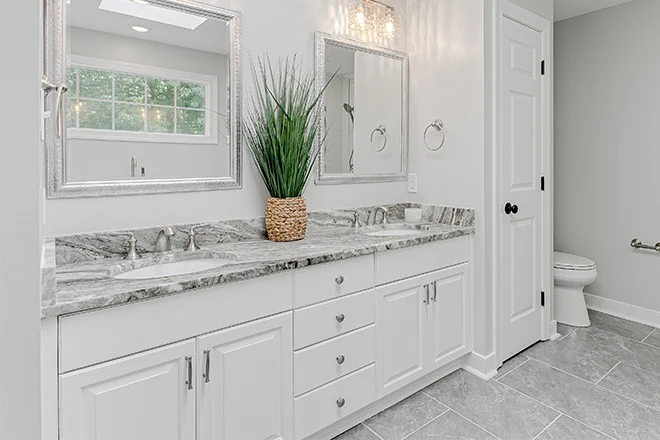 When it comes to double vanities, there are several types to choose from. Each type has its own unique features and costs.
---
Freestanding Vanities
A freestanding double vanity is a traditional type of vanity that stands on its own legs or base.
It's a popular choice for its classic look and ample storage space. The cost of a freestanding double vanity can vary widely depending on the size, materials, and features.
---
Floating Vanities
A floating double vanity, also known as a wall-mounted vanity, is attached to the wall and does not touch the floor.
This modern style can make a bathroom appear larger and more open. The cost of a floating double vanity can be higher than a freestanding vanity due to the additional installation work required.
---
Types Of Double Bathroom Vanity Tops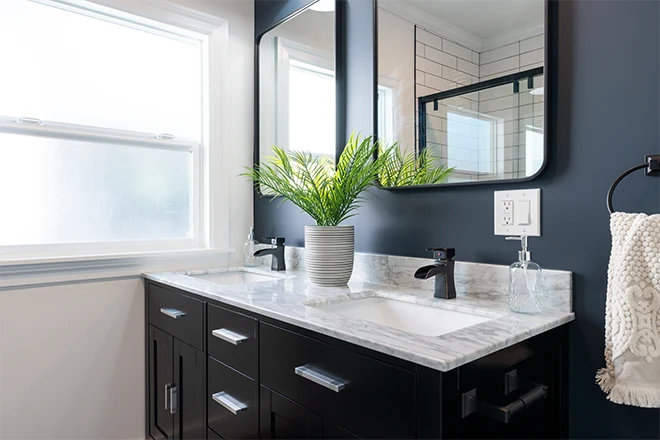 The vanity top is another important factor to consider when calculating the cost of a double vanity. The type of bathroom countertop material used for the vanity top can significantly affect the overall cost.
---
Laminate Vanity Countertops
Laminate vanity tops are a budget-friendly option.
They come in a variety of colors and patterns, and they're easy to clean and maintain. However, they're not as durable as some other materials and can be prone to scratches and damage from heat.
---
Solid Surface Vanity Countertops
Solid surface vanity tops are made from a blend of acrylic and polyester.
They're durable, low-maintenance, and can mimic the look of more expensive materials like granite or marble. They're more expensive than laminate but less expensive than natural stone.
---
Granite Vanity Countertops
Granite vanity tops are a popular choice for their natural beauty and durability.
Each granite top is unique, with its own pattern of grains, specks, and veins. Granite is more expensive than laminate or solid surface, but it can add significant value to your home.
---
Marble Vanity Countertops
Marble vanity tops are the epitome of luxury.
They offer a timeless, elegant look, but they require more maintenance and are more expensive than other materials. However, if you're looking for a high-end look, marble could be worth the investment.
---
Benefits Of Installing A Double Vanity
Installing a double vanity has several benefits.
Increased storage space: A double vanity provides plenty of room to store toiletries, cosmetics, and other bathroom essentials.
Cost-effectiveness: While the upfront cost might be higher, a double vanity can add significant value to your home, making it a cost-effective investment in the long run.
Customization options: With a wide range of styles, sizes, and materials to choose from, you can find a double vanity that perfectly matches your bathroom decor.
Low maintenance: Most vanities are easy to clean and maintain, making them a practical addition to any bathroom.
Increased home value: A double vanity can increase the value of your home, making it a worthwhile investment.
---
Ways To Save On The Installation
There are several ways to save on the cost of installing a double vanity.
Be flexible with project scheduling: Contractors might charge less during their off-peak seasons.
Use moderate to low-cost materials: Choosing less expensive materials can significantly reduce the cost.
Do some tasks yourself: If you're handy, doing some of the simpler tasks yourself can save on labor costs.
Shop around for the best prices: Prices can vary significantly between different retailers, so it pays to shop around.
---
Transform Your Bathroom with Frei Remodeling & Construction
Installing a new double vanity can give your bathroom a fresh, updated look.
At Frei Remodeling & Construction, we specialize in high-end bathroom remodels in Tucson. We can help you choose the perfect vanity for your space and handle the installation process from start to finish.
Ready to transform your bathroom? Fill out our contact form today or give us a call. We can't wait to help you create the bathroom of your dreams!